About Aero Tec Laboratories - ATL

Aero Tec Laboratories was founded in 1970 as a design and testing facility for "flexible composite" materials. Shortly thereafter, the firm broadened its scope to include the actual fabrication of end products from its own outstanding fiber/elastomer composites.

From ambitious beginnings in engineered inflatables and crashworthy fuel cell bladders, ATL has further spread its technologies into compensators, accumulators, potable water vessels, self-healing ballistic tanks, space containerization, bulk storage bladders and scores of similar endeavors. The common thread among ATL's products is the seeming dichotomy of remarkable toughness and durability coupled with extreme light weight, high flexibility and compactness.

Over its generation of growth, ATL USA has assembled an enviable legion of agents and distributors, plus a sister company in England, ATL UK, and a range of over 100 flex-composite materials.

Today, ATL enjoys sales of both "catalog" and "custom" devices to prestigious clients in the world's top 40 industrialized nations. ATL is also an AS 9100C and ISO 9001 certified company, the highest quality standard attainable. A few of our valued repeat customers are:

• Abarth
• Alpina
• American Custom Yachts
• Andretti Autosport
• Aston Martin Racing
• Audi
• Bentley
• Bicknell Race Cars
• BimmerWorld
• BMW Motorsport
• Boeing
• CIA
• Capital Race Cars
• Callaway Competition
• Calpine
• Carnegie Mellon
• Caterham Cars
• Chassis Dynamics
• CJB Motorsports
• Citroen
• Dallara
• Elan Motorsports
• FBI
• Ferrari F1
• First Energy Corp.
• Ford
• Gichner
• Ginetta Cars
• General Atomics
• General Dynamics
• General Electric
• General Motors
• Goodyear
• GRT Race Cars
• Hamke Race Cars
• Harris Race Cars
• Hendrick Motorsports
• Hess Race Cars
• Honda Performance
• Hyundai
• IBM
• Intel



• Jagged Xtreme
• Jaguar Land-Rover
• Jerry Woods Enterprises
• Jimmy's 4x4
• J&J Auto Racing
• JTG Daugherty Racing
• Kasey Kahne Racing
• Lamborghini
• Larson Marks Racing
• LFR Race Cars
• Lockheed-Martin
• Lotus Cars
• Lotus F1
• M-Sport
• Manor F1 Team
• Marine Technology
• Mark Richards Racing
• McLaren Automotive
• McLaren GT
• McLaren F1
• Meggitt Defense Systems
• Mercedes AMG F1
• Mercedes Benz HPP
• Mitsubishi
• Multimatic
• NASA
• NASCAR
• Northrop Grumman
• Nova Engineering
• Nismo
• Oreca
• Outerlimits Powerboats
• Phil Reilly & Company
• Port City Chassis
• Porsche
• Pratt & Miller
• Pratt & Whitney
• Prodrive
• Pro Formula Mazda
• Radical
• Raytheon
• Red Bull Racing



• Ricardo
• Richard Childress Racing
• Riley Technologies
• RM Motorsports
• Rocket Chassis
• Roush Fenway Racing
• Sauber F1
• SCCA Enterprises
• Scripts Oceanographic
• Scuderia Torro Rosso
• Skoda Motorsport
• SPAFCO Race Cars
• SpeedSource
• Stewart-Haas Racing
• Tatum Motorsports
• Team Dillon Racing
• Teo Pro Car
• Ti22 Performance
• Toyota Motorsport
• Toyota Racing Development
• Troyer Race Cars
• Turbine Marine
• U.S. Air Force
• U.S. Army
• U.S. Coast Guard
• U.S. Dept of Energy
• U.S. Forest Service
• U.S. Marine Corps
• U.S. Marine Inc.
• U.S. Navy
• United Nations
• U.S. Secret Service
• Venturini Motorsports
• Vermont Sports Car
• Volkswagen Motorsport
• Waukesha
• Weatherford
• Williams GP Engineering
• Woods Hole Oceanographic
• World Food Programme

Click above to learn more
---
ATL-USA and ATL-UK have both been blessed with outstanding records of engineering achievement and unwavering loyalty from valued customers around the World. Both firms are proud of their people, their products and their perseverance through good times and bad. Happily, neither company has suffered a "losing year" in all of their combined 65 years in business!


To convey their gratefulness for ATL's unbroken success, management and labor have combined both cash and kindness to help support as many local and national charities as feasible. Among those receiving aid from the ATL Corporations and their employees are:


A.S.P.C.A Animal Adoptions
Hope Funds for Cancer Research
Veterans of Foreign Wars
Young Carers UK
British National Trust
American Cancer Society
National Horticultural Society
Police Survivor's Fund
New York Philharmonic Orchestra
French Heritage Society
Ramsey, NJ High School
Girl Scouts of America
Boy Scouts of America
National Trust for Historic Preservation
Madison Square Boys & Girls Club
Metropolitan Museum of Art
Versailles Foundation
The U.S. Court Tennis Preservation Fund
The Lions Club
Museum of Arts and Design

National Veterans Services Fund
National Osteoporosis Foundation
The Royal Oak Society
Morris Animal Foundation
The Horticultural Society
Orange County Land Trust
Orange Enviroment
Ramsey Volunteer Ambulance Corp
Friends of the Disabled
The Valley Hospital Foundation
Calvary Hospice
Lenox Hill Neighborhood House
American Museum of Natural History
Hand in Hand
Central Park Conservancy
East Side House Settlement
Tuxedo Park Garden Club
Achilles International
Durga Tree International
Scenic Hudson, Inc.




We Support:



---
Aero Tec Laboratories - AS 9100C / ISO 9001:2008 Certified
| | |
| --- | --- |
| | |
---
NEWS RELEASE:
AERO TEC LABORATORIES (ATL) ACHIEVES AS9100C CERTIFICATION!
Aero Tec Laboratories, of Ramsey, New Jersey, is pleased to announce that it has received it's AS 9100C Registration, the stringent quality standard for companies within the aerospace and defense industry. The certification, which fully encompasses ISO 9001, is the highest quality standard attainable.
For nearly a half a century, ATL has been at the forefront of the development, design, and manufacture of flexible composite fluid handling systems, including crash-worthy fuel bladders, inflatable devices, and bulk liquid storage solutions for the aerospace industry and beyond.
Although quality has always been ATL's top priority, this certification further entrenches ATL's commitment to customer satisfaction and meeting the highest levels of safety and reliability.
With these rigorous quality systems in place, ATL strives for continuous improvement in every aspect of business including documentation, raw materials sourcing, manufacturing, and on-time delivery.
ATL is excited to grow and forge new and lasting relationships within the aerospace and defense industry, all while upholding the highest of quality standards.
For additional technical and sales information please contact:
David H. Dack
Vice President - Sales
Aero Tec Laboratories, Inc.
Spear Road Industrial Park
Ramsey, NJ 07446
Tel: (201) 825-1400
Fax. (201) 825-4974
Toll Free: (800) 526.5330
atl@atlinc.com
www.atlinc.com
---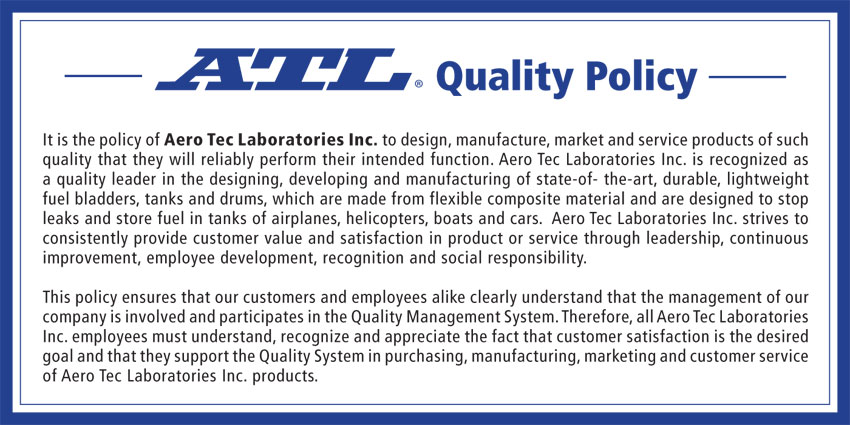 ATL - An Earth Friendly Firm
ATL is not a "suddenly-trendy" company. The fact is, we have been attuned to health, safety, conservation and environmental issues for 40 years.

First came the safety and good health of ATL's customers whom we've long protected by preventing countless fires, explosions, burns and fatalities through ATL's revolutionary safety fuel cell bladder tanks.

At the same time, ATL has refined its own research and manufacturing processes to drastically reduce reliance upon chemicals and solvents, otherwise common to the rubber and plastics industry. Our company has successfully diminished waste and scrap too, by re-positioning and re-cycling spent raw materials, such as foam, fabrics and elastomers.

ATL is also proud of its safe and healthy workplace, which is routinely inspected and approved by both Federal and State OSHA offices. Our workspaces are outfitted with high efficiency lighting, central skylights, localized heating, R40 insulation, fresh air circulation and full fire suppression systems. Employees enjoy safe off-street parking in a suburban setting, yet close to major arteries for minimizing travel-time and fuel consumption. Even the ATL grounds are heavily planted with oxygen-emitting trees, shrubs, and "modest but attractive" flower beds!

ATL's offices and technical labs have adopted programs to recycle newsprint, glass, metal, plastics and even outdated documents, which are reused as scrap-paper!

Most interesting is ATL's gradual, but brave, technological metamorphosis from petroleum-based polymers to those derived from renewable organics and even stone! These eco-friendly raw materials include elastomers, high-tensile fibers, sealants and thermal reflectives.

Most of ATL's avant-garde synthetics allow the company to produce even stronger and safer crash-resistant fuel cell tanks for its many customers. An environmental corollary to this material transition is ATL's low-diffusion fuel bladders which markedly reduce gasoline and diesel vapor emissions. These new flexible fuel vessels readily accept all of the myriad bio-fuels coming to market. Ethanol fuels, bio-diesel, methanol, bio-jet and a host of other combustibles can all be interchanged safely in one ATL "flex-fuel" bladder tank. And, although our roofs are not yet hosts to solar arrays and wind turbines, ATL has devised effective in-house programs for reducing gas and electric requirements, conserving water, curtailing solid waste and preserving photosynthesizing vegetation.

Summarily, ATL has long been a silent pioneer in both basic and advanced practices to help safeguard our vulnerable planet and its inhabitants. At ATL we don't just speak "lean and green"; we live by it!
ATLís Employee Medical Emergency Program

In order to prepare for any medical emergencies that might arise here at ATL's facility, a training class given by a Certified CPR Instructor has been provided for a group of its employees that includes adult CPR, AED, defibrillator operation and choking response. Each of these 8 attendees received a 2 year certification from the American Heart Association. Employee safety has always been in the forefront at ATL, this certification helps to ensure that we will be able to respond quickly and confidently in the event of an emergency.