ATL, an AS 9100C and ISO 9001 company, proudly produces flexible fuel cell bladder tanks for aircraft, drones/UAVs, rotorcraft, missiles, ROVs & UUVs. These tough, light-weight flex-tanks resist motor gasoline, diesel, avgas and JP fuels including JP-8, JP-10 and JP-TS. Other bladders are available for hydrogen, propane and alcohol fuels.

ATL's fuel cell installations can be designed as ventless collapsing "diaphragms" or as vented non-collapsing "liners."

Flexible bladder materials from ATL span the range from super-light .010" (.25 mm) thickness to .040" (1.02 mm) "crashworthy" and then to .085" (2.16 mm) self-sealing variety.


Modern CAD systems create soft tooling or "e-templates" which enable ATL to offer prototype bladders within 2 weeks, and ramped-up production within a month.
Click Here

to

read an editorial about ATL Fuel Bladders in "Unmanned Systems"

Click Here

to see ATL in "Unmanned Vehicles" & "Unmanned Systems" Magazine

Click Here

for UAV Product Literature

Click Here

for Design Engineer's Worksheet

| | | | |
| --- | --- | --- | --- |
| AAI | EADS (Cassidian) | Lockheed Martin | Selex ES |
| Aero Mech | Force Protection | NASA | Sikorsky |
| Aerosonde | Galileo Avionica | Marenco Swiss Heli. | TACOM |
| Arcturus | General Atomics | Meggitt Defense | Terrafugia |
| AREAI | General Dynamics | NAVMAR | Textron Systems |
| Aurora | General Electric | NAWCAD | The Flying Bulls |
| BAE | Google | Northrop Grumman | Turkish Aerospace |
| Bell Textron | Honeywell | NSWC | UAV Solutions |
| Boeing | Hybrid Air Vehicles | Pratt & Whitney | U.S. Army |
| Carnegie Mellon | Jacobs | Raytheon | U.S. Marine |
| Cranfield Aerospace | JetPack Aviation | Ricardo UK | Woods Hole |
| DARPA | L3 | Robertson | & Many More! |
| Drone America | Finmeccanica | Scaled Composites | |
| DRS | Livermore Labs | Scripts Inst. | |

Fully collapsible for easy installation/removal
Available in any size, geometry, or material
Electronically templated; Near zero tooling cost
Light weight and thin-walled for greater fuel capacity
Total fuel scavenging options
Low fuel diffusion rate; can surpass Mil-DTL-6396F
CAD/CAM production for accuracy and reproducibility
Light weight composite fittings and flanges
Resistant to Avgas, Mogas, JP4, 5, 8, 10; Jet A, B; Kerosene,
Bio-Ethanol E10, Diesel, Bio-Diesel, Bio-Butanol B10 and Bio-Jet
Special bladder materials available for rocket/missile/torpedo fuels. Specifically: hydrogen peroxide, hydrazine, Otto Fuel II, HAN fuel, JP-7, methanol, nitromethane, propane,
butane and others
Baffles, vent valves, quantity gauges, drains, collectors etc. fully integrated
General Atomics Predator Award for Quality and On-time delivery
Can serve as secondary fuel containment if wing or fuselage is cracked or punctured
Immune to shock, impact, vibration, launching, retrieval and hard landings
Operates to 60,000 ft. within temperatures of 200°F (95°C) and
-60°F (-50°C)
Modest cost, long life, low-to-zero maintenance
Safety foam explosion-proofing system option

KeyCreator
Auto CAD
CATIA

ATL-9000
Mil-Q-9858-A
Mil-I-45208
ISO-9001-2008
AS 9100C

Light-weight bladders
Self-seal bladders
Aluminum welded tanks
Roto-molded polymer tanks
Carbon fiber tanks

| | | | |
| --- | --- | --- | --- |
| Sumps | Filters | Anti-stat Foam | Wire Harnesses |
| Drains | Surge-tanks | Refuelers | Hoppers |
| Flanges | Flop tubes | Hangers | Dry-breaks |
| Piccolo tubes | Vent valves | UID | Quick-connects |
| Baffles | Trap doors | Weirs | Gauging |

ATL-794-A
White, "Skytec"
Most popular
.013"(0.3mm) thick
Rubberized nylon
ATL-826-A
"Bantam"
FT3
.026" (0.7mm) thick
Aramid Reinforced

ATL-516-40
Yellow
"Skytec"
.040" (1mm) thick
Conformal

ATL-895-A
Translucent, "FluoroCell"
FAA-TSO compliant
Hi-temp, All-fuel
.016" (0.4mm) thick
ATL-893-B
Black
"Fluoro Cell"
Semi-self-seal
.050" (1.25 mm) thick

ATL-854-B
H-D Rubberized
Nylon, MIL-T-52983
DOD-ATPD-2266
.065" (1.65mm) thick
ATL-894-A
Tri-Ax Aramid
Omni-Directional Strength
ATL-565
Black, "Saver Cell"
Molded Polymer
.100" (2.54mm) to
.25" (6.35mm) thick

ATL's "Two-By-Two"™ Portable Refueling System

The ATL "Two-By-Two"™ Portable Refueling System is a complete package for transferring fuel from ATL Petro-Flex® tanks (or rigid tanks) to ground vehicles, helicopters, airplanes, military vehicles, or other tanks and drums.

The "Two-By-Two"™ System may also be used to fill storage vessels when offloading tank trucks, wagons or transport trucks... CLICK HERE FOR MORE INFO.

REFUELER FEATURES:

Available with 2HP Electric Motor, 3HP Gas Engine, or 4.2HP Diesel Engine (Most Popular)
100 GPM centrifugal pump (100 GPM free flow, Approx. 60 GPM after filtration)
Includes: 1/2 micron filter, hoses, nozzle, totalizer, ground strap, relief valve, pressure gauge, condensate bleed and roller cart.
Optional Flowmeter (Gallons or Liters)
Resistant to gasoline (mogas), diesel, JP4, 5, 6, 8, 10, Avgas and 30% oxygenates

Here is a typical ATL fuel cell bladder e-template...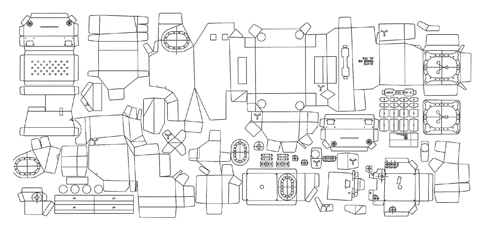 Totally defined, thoroughly precise, and continuously repeatable…
cell after cell after cell!
---
Important: Some overseas applications of ATL Fuel Systems may require I.T.A.R. registration through D.O.S., U.S. Customs and/or D.O.D. if included on the USA Munitions List.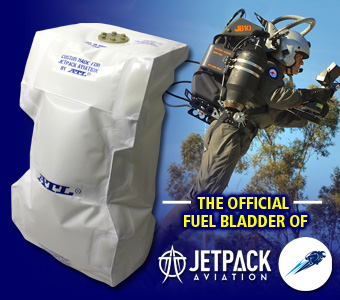 "Since 2007 we have been developing and flight testing our JetPacks with highly customized, MIL-SPEC, and very lightweight ATL fuel tank bladders.
ATL's engineering expertise, high quality construction, and rapid turnaround has continued to inspire confidence in fuel bladder solutions that maximize our flight time and provides the safe foundation for feeding our jet engines throughout all our JetPack prototypes.
ATL is one of our top suppliers and their bladder solutions are a primary enabling technology to finally realize the century old dream of a compact, portable, and true JetPack."

- Stefano Paris - Chief Design Engineer of JetPack Aviation